Participation Statistics
& ESID Society Info
INDUSTRY BENEFITS OF SUPPORTING ESID 2022
World's largest and most important meeting devoted to Primary Immunodeficiencies.​
Promotes cutting-edge scientific research
Contributes to the advancement of Primary Immunodeficiencies on an international level
Offers a unique opportunity to exchange ideas with renowned professionals from across the world
Provides an ideal networking forum
Offers unique exposure to worldwide markets
ESID Attendance over the years
ESID 2010 (Istanbul) - 1,300 Participants
ESID 2012 (Florence) - 1,838 Participants
ESID 2014 (Prague) - 2,098 Participants
ESID 2017 Focus Meeting (Edinburgh) - 1,628 Participants
ESID 2018 (Lisbon) - 2,475 Participants
ESID 2019 Focus Meeting (Brussels) - 1,669 Participants
ESID 2020 (Virtual) - 1,969 Participants
ESID 2021 Focus Meeting - Secondary Immunodeficiencies (Virtual) - 1,085 Participants
Statistics from ESID 2021 – Virtual
Total Number of Unique Logins
Total Number of User Logins
TOTAL UNIQUE USERS LOGINS BY DAY
TURKEY 9%
UNITED KINGDOM 9%
POLAND 7%
SPAIN 6%
ITALY 5%
GERMANY 4%
UNITED STATES 4%
BRAZIL 4%
NETHERLANDS 3%
SWITZERLAND 3%
IRELAND 3%
FRANCE 3%
AUSTRIA 2%
MEXICO 2%
ARGENTINA 2%
PORTUGAL 2%
AUSTRALIA 2%
BELGIUM 2%
CANADA 2%
DENMARK 2%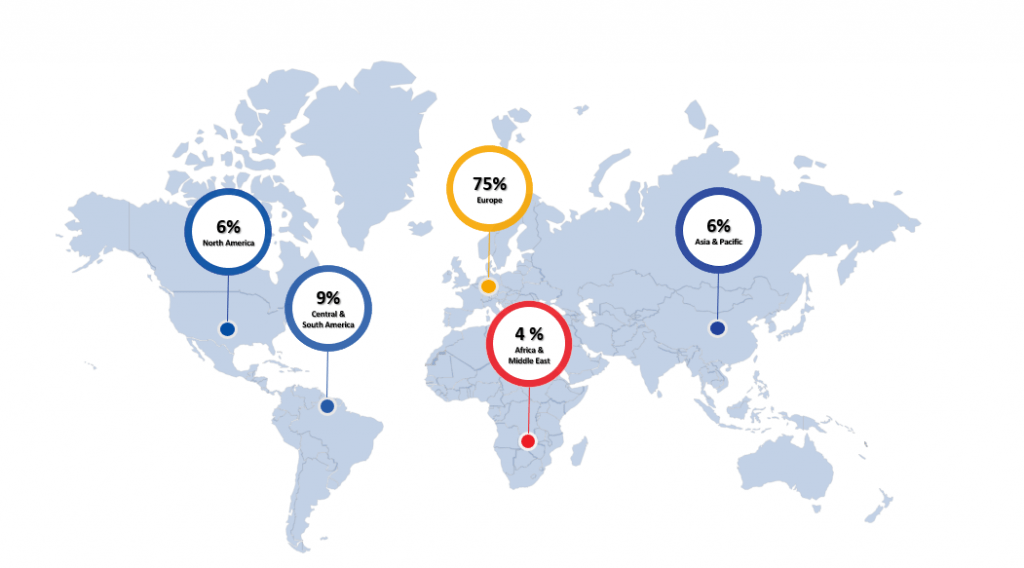 PARTICIPANTS BY PROFESSIONAL ROLE (%)
PARTICIPANTS BY WORKPLACE (%)
PROFESSIONAL INTEREST BY FIELD (%)
COMMITMENT TO THE HIGHEST STANDARDS IN CME/CPD
Kenes is committed to being a valuable and knowledgeable partner in the design and delivery of educationally strong, independent, transparent, and effective CME/CPD programmes. Kenes is a proud member of the Good CME Practice Group (gCMEp), a member organisation contributing to improving health outcomes by:



Championing best practice in CME/CPD

Maintaining and improving standards

Mentoring and educating

Working in collaboration with critical stakeholders
Membership in the Good CME Practice Group illustrates Kenes commitment to high standards and knowledgeable partnership with its clients in the design and delivery of medical events.
CME Accreditation
An application will be submitted to the European Accreditation Council for Continuing Medical Education (EACCME) to provide accreditation by the following CME activity for medical specialists. The EACCME is an institution of the European
Union of Medical Specialists (UEMS): www.uems.net.
Industry Supported Sessions
Industry Supported Sessions slots are offered to industry as non-CME commercial/promotional sessions that are not accredited. As such supporters are free to choose their topics, invite speakers and control content, the session will be
indicated in the program as organized by the Supporter. Topic and program are subject to approval by the Congress Scientific Committee.
Disclaimer
Information contained in the scientific program must comply with the applicable CME/CPD regulations. Scientific/Educational Program shall not include any commercial elements such as company names, products names, etc. Commercial information shall be kept separate and clearly differentiated from the scientific accredited content. Non educational activities may include promotional elements and shall not be accredited.​​​